COCO CHANEL
Gabrielle "CoCo" Chanel's name is unanimous throughout the world. After a dismal acting career in her early twenties, Chanel turned her sights to design. In 1921, Chanel opened her own boutique on 31 Rue Cambon. After nearly a decade, Chanel began designing and styling French aristocrats, actors and royalty. Chanel is branded as one of the most influential designers ever; she shifted the history of fashion through her classic cuts and her take on how women should both dress and behave. From her numerous takes on the "little black dress" to her notorious No. 5 perfume worn by the likes of Marilyn Monroe and Nicole Kidman, Coco has reigned as one of the fashion worlds connoisseur's for over a century. This digital analog  will portray how Coco Chanel's influence transformed the history of fashion throughout the past decades and how it continues to do so through this day.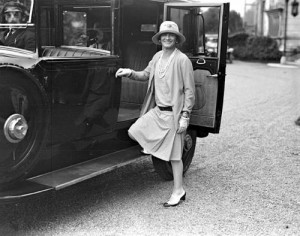 "Before she changed the face of fashion with her haute couture dresses, sophisticated suits and luxury fragrances, Gabrielle "Coco" Chanel was a poor girl who came from humble beginnings." (http://www.oprah.com/style)
Unlike a war or the reconstruction of a city, Chanel's brand has spanned throughout the past eighty-some years into a global market making her one of the most sought after brands ever. Today, her timeless products including bags, jewelry, scarves, and shoes are featured in over 120 stores and pop-up shops worldwide.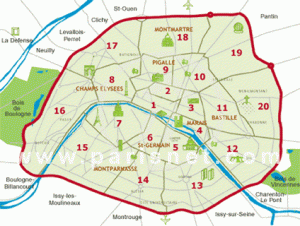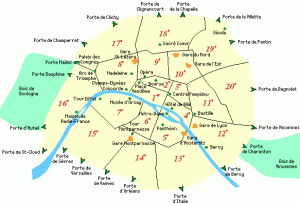 It all began in the City of Light: Paris, France in the 1920's. This is a map of Paris from the early 1900's compared to a map of Paris today. Chanel's iconic studio is located on 31 Rue Cambon which sits atop a Chanel boutique, and is now used for press, fashion shows, and private cliental (NPR.com) The boutique is one of the most sought after tourist attractions for fashion lovers and it is open for public touring-a must see for any fan of the brand!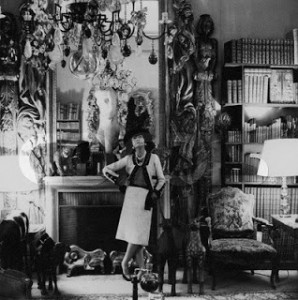 This photo features Chanel herself in the living space of 31 Rue Cambon.
"Elegance is not the prerogative of those who have just escaped from adolescence  but of those who have already taken possession of their future." -Coco Chanel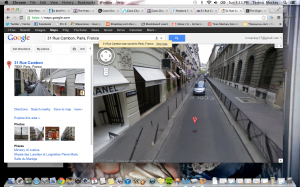 (Screen shot of 31 Rue Cambon, Paris, France 2012)
This link gives a live tour of Chanel's apartment giving fans an inside look of where she designed, entertained her guests, and lived. Displaying elegant light fixtures, posh furniture and the famous mirrored staircase where she would watch over her workers,  Coco also used this swirling staircase as a platform to display each season's ready-to-wear garments.
Global Influence:
The importance of Chanel's brand began when it merged the fashion world with the modern woman in the early 1930-40's. Notably one of the first women to sport trousers, Coco made this a key piece in every French women's wardrobe.  Her use of sharp shapes and jersey fabrics helped her to appeal to many women at the time who were accustomed to wearing skirts that swept the ground and corsets. Aside from the LBD (little black dress) Chanel's brand was centered on a few key pieces:
The Tweed Suit
The Quilted Handbag
Costume Jewelry
The timelessness of her quilted handbag themselves with their CC logo and chain strap setting, help land the brand a gross annual income between 2-3 billion dollars (Portfolio.com) According to Amanda Mull of the blog, Purseblog.com, "So many designers have been "inspired" by the flap – if you're going to pay big bucks, get the original: Everyone from Urban Outfitters to Marc Jacobs has been accused of stealing from Chanel's signature bag, and there's a good reason for that – it's timeless, iconic and still as relevant to luxury customers today as it was back in the 1950s."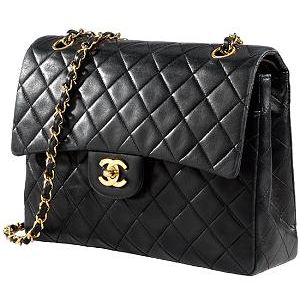 I wanted to search how many books and publication from 1920-2012 mentioned either "Chanel" or "Coco Chanel" in both English and French and the Ngram's below display the following-with English on top and French below it.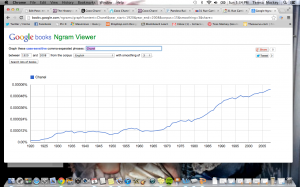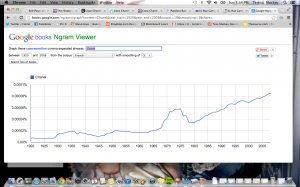 What is interesting about this is that both the search in English and French sparked more numbers after the 1970's, and continued to grow in popularity through the second half of the twentieth century. Chanel died in January of 1971. Her brand was then taken over by Karl Lagerfeld in 1983. Here is a search on Time's Magazine Corpus  of "Lagerfeld post 1980 in comparison to Coco herself. Lagerfeld has been mentioned a total of 40 times throughout the corpus from the 1980's on. This is helpful in displaying the longevity that Chanel's brand has had in not only fashion but literature and popular culture.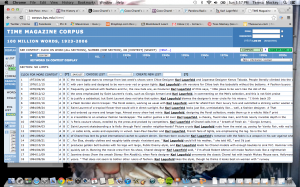 Chanel's clothing and accessories are still vital agents of many upscale magazine editorials including Vogue, Vanity Fair and The New York Time's Style monthly issues. With celebrity endorsements as well as a global following, a classic Chanel piece is often coveted by anyone who follows fashion. Her pieces range from the low $1,000's upwards of $100,000-which goes to show the demand her brand still carries to this day.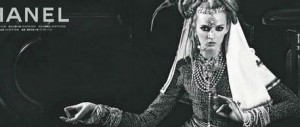 Lagerfeld himself is acclaimed in the fashion industry. Seen as somewhat of a rock star, Lagerfeld has redesigned the brand to make it more edgy by adding twists on Chanel's classic concepts. Though, staying true to its roots, the brand itself has the mass appeal to all age groups and editors alike.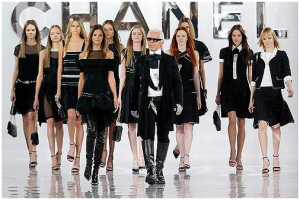 Karl Lagerfeld leading his model pack at the end of one of Chanel's latest runway shows in Paris, France.
Chanel will live on as the most luxurious brand in the world. Coco Chanel is not only an icon, she was a pioneer for every major designer now and in the future.